MAKE MONEY WITH AFFILIATE PROGRAMS
I have been promoting other people's products since 2000. I regularly receive checks in the mail or payment by direct deposit for commissions that earn whenever a lead or a sale is generated through my affiliate links. It's good income coming in even though I do not have physical products to sell! As I build more sites and promote more affiliate links, my income continues to grow! You don't even need to own a website to promote! Anyone can do this!

Read the amazing true story of how one woman, with no previous business experience, earns 400,000+ per year ... selling other people's stuff online!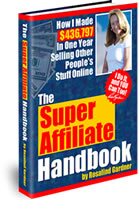 In her down-to-earth, sincere and often humorous style, Rosalind Gardner guides you through the entire process of building an affiliate marketing business on the 'Net. In 230+ pages, and more than 68,000 words, you'll learn how to pick the best programs, negotiate a commission raise and save time, money and effort on everything from affiliate software to web hosting.

To learn exactly how she does it, I HIGHLY RECOMMEND that you visit that you visit The Super Affiliate Handbook!

Join one or more of these affiliate networks and select any company that matches your interest and website, place their links or banners on your website or marketing emails and earn commissions for every sale, referral, or clicks through your website.

To your family's success, Bing Howard

06/08/2006


LIST OF AFFILIATE PROGRAMS/NETWORKS:
Affiliate Fuel

- Webmasters, generate additional income through your sites and newsletters! Affiliate Fuel provides you with high converting lead generation and CPC campaigns to fully monetize your unsold ad space.
ClickBank

- With ClickBank every link on your web site can be a source of revenue. Use the ClickBank Marketplace to find products that will be of interest to people who visit your web site.
ClickXchange.com

- online marketing you can trust! - clickXchange.com, is a leading affiliate marketing solution provider. Web publishers maximize their revenue and site content providing advertisers with traffic, leads and sales. Currently 6 commission structures supported.
ClixGalore

- clixGalore is a large affiliate network comprising of over 4500+ Merchants and ten of thousands of Affiliates across our four networks in the USA, UK, Japan and Australia!

Earn Commission For Life - clixGalore Affiliate Referrals !!
Commission Junction

- Commission Junction provides publishers the opportunity to earn more revenue from their audience on a pay-for-performance basis. Publishers can partner with hundreds of advertisers and access millions of ads via the BFAST Partner Gateway and the CJ Marketplace
Cyberbounty

- has been a market leader of the CPA/Revenue Share market since it's inception in 1998, providing high quality, sophisticated network affiliate services to its broad base of Affiliates and Merchants.
Floppybank Affiliate Network

- Affiliate network offers CPC, CPA and sales lead commission programs, with a central administration and paycheck system.
icommissions.com

- Affiliate marketing is a partnership between your site and an online merchant/advertiser (that is, a website that sells products or services). When you join the iCommissions.com affiliate network you will gain the access to some of the highest paying and highest converting affiliate offers online.
LeadHound

- Features promotional program for merchants and a free affiliate program to make money through banners and links. News, company and program information, and contact details.
LinkShare

-

LinkShare pioneered online affiliate marketing,

and today runs the largest pay for performance affiliate marketing network on the Internet. Featuring our patented technology, we provide all the tools and services merchants need to create, manage and optimize a successful affiliate marketing program.
Opt-Media.com - Optimize Your Revenue

- Opt-Media delivers the highest payouts in the industry to our publishers. From our Mail To A Friend (Tell A Friend ) service to our ability to seamlessly integrate into your existing registration form, Opt-Media can deliver the power & performance your website needs. Let us help you grow your traffic virally
Performics

- the performance-based marketing division of DoubleClick, provides online marketing services and technologies for leading multi-channel marketers. Together, Performics and DoubleClick offer clients an unparalleled range of marketing solutions and are uniquely positioned to compare effectiveness across marketing channels for valued clients.
Revenue Pilot

- RevenuePilot affiliates receive 60% of what advertisers pay RevenuePilot per each click. We provide you with various linking methods that allow you to link to our premiere pay per click network; therefore you get paid for each successful click-through that is generated by your site's visitors. We get the highest bids from our select advertisers and top search engines to help you achieve your maximum revenue potential. Our results are sorted by highest bid, ensuring that you receive the highest revenue per click regardless of your category or traffic.
SearchFeed

- Build an attractive revenue stream and enhance site content while maintaining brand identity. Searchfeed.com's 2-Tier Search Engine model pays commissions per click as well as for referred advertisers and affiliates. Easy cutting & pasting of system-generated code lets you choose look and feel. Detailed online reporting included.
ShareASale.com

- There are currently over 1,700 Merchants plugged in to the Shareasale.com network. Each of these merchants has a different type of product that they are selling - and each is ready to give you a commission on that sale if you bring a customer to them.
SunspotWeb

- Specializes in affiliate marketing programs focusing on credit cards. Includes company profile and affiliate signup form.
WebSponsors

- We can maximize your web site's revenue by letting YOU choose the ads you want to host. With your choice of banner size and placement, coupled with non-exclusive contracts and no hidden fees, Websponsors.com is your best choice for selling your inventory and earning revenue!
Zanox

- Are you a sales manager, marketer or webmaster interested in earning money with e-commerce? Benefit from attractive commissions and a co-operative model that guarantee you permanent income. Become a partner of prestigious companies today for free.
EBOOKS AND TOOLS ON AFFILIATE MARKETING:
Please email to make corrections or suggestions.
Related Pages: Affiliate Marketing Articles, Christian Affiliate Programs, Blogging, ClickBank, Chitika, Google Adsense, Private Label Rights, and Home Business Ideas List